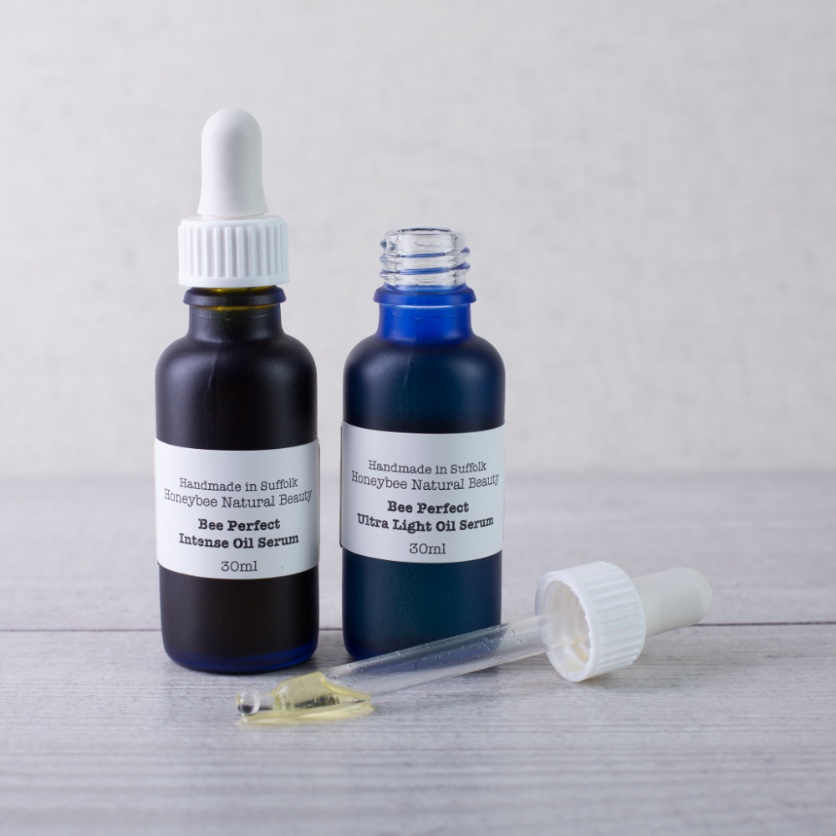 Anti-aging ProductsBee Perfect Intense Oil Serum - 30 ml £27.00
Bee Perfect Ultra Light Oil Serum - 30ml £27.00

30ml £27.00
Intense Oil Serum
This intensely hydrating serum is a delicious blend of

Mother Natures little miracles - plant oils, including Rosehip, Kiwi seed, Camelina and Macadamia nut.

Also includes a plant extract with skin smoothing and firming properties, Vitamins A & E which contain antioxidants to help combat the signs of premature ageing. Scented with Neroli essential oil.
Ultra light Oil Serum


Decadently scented with Frangipani, this blend includes Marula, Rosehip, Rice Bran, Meadowfoam and White Poppy seed oils.

Apply a few drops of the serums to the face and neck, avoiding the eye area. They can be used alone or with your usual moisturiser



Bee Perfect Skin Rejuvenating Elixir30 ml £22.50



A blend plant oils and natural additives to help the skin combat signs of aging
· Kiwi seed oil – high in Omega 3. Improves skin condition; repairs damaged skin, reduced fine lines
· Peach kernel oil – softening and easily absorbed
· Rosehip oil, - contains Vitamin A and Omega 3. Helps smooth wrinkles and repair damage

· Natural active complex from Millet. Protects against skin aging. Tautens skin, reduces the effect of wrinkles and lines
· Natural flower extract that smooths and firms the skin.
· Soya bean and asparagus extract – binds moisture to the skin
· Aloe Vera Gel – soothing, healing, stimulates growth and repairs tissues.